AlphaJoint Classic 4010
ALPHAJOINT CLASSIC 4010:
Well known as the 'industry standard' armoured joint, this remains a popular choice for many projects worldwide due to its strength and versatility. It is now supplied with Permaban's Universal Divider Plate, with pre-set positions which allow installers to choose the correct joint height, then use excess stock on the next job site.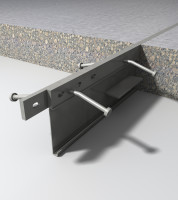 Ideal for:
• General warehousing
• Distribution centres
• Production facilities
• Heavy and light industry
Specific areas of use:
• Free movement areas
• Transfer aisles
• Doorway protection
• Jointless floors
'Duty' / wheel type:
• Heavy duty (small, hard wheels)
• Medium duty
(pneumatic tyres)
Resources
Other Products
Can't find what you're looking for? Call us today and we'll provide what you need!