BetaJoint Range
BETAJOINT RANGE:
Tough and sturdy, yet remarkably light the BetaJoint range offers medium-duty construction joint protection in concrete floors and pavements. Continuous concrete ties ensure firm anchoring into the concrete along its entire length. Choose BetaExpansion (pictured) for external slabs; and BetaEdge if using traditional removable timber or steel formwork.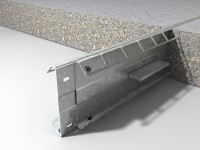 Ideal for:
• Light industry
• Pedestrian traffic areas
Specific areas of use:
• Jointless floors
• Pedestrian traffic areas
• As a leave-in-place screed rail
• Free movement areas
• External yards (BetaExpansion)
Duty' / wheel type:
• Medium duty
(pneumatic tyres)
Resources
Other Products
Can't find what you're looking for? Call us today and we'll provide what you need!