SignatureSlide Joint
SIGNATURE SLIDE:
No impact, no damage, no gap! SignatureSlide's clever double-plate top ensures no gap is exposed when the joint opens. Designed to cover larger gap sizes, it is ideal for jointless floors, post-tensioned floors and cold/freezer stores; and also where debris or substances might enter the gap. Continuous concrete ties ensure firm anchoring.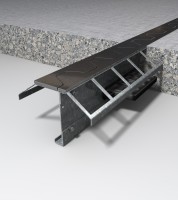 Ideal for:
• Cold stores and freezer stores
• Food manufacturing
• Heavy and light industry
• General warehousing
Specific areas of use:
• Jointless floors
• Post-tensioned slabs
• Defined movement areas
• Internal use
'Duty' / wheel type:
• Heavy duty (small, hard wheels)
Resources
Other Products
Can't find what you're looking for? Call us today and we'll provide what you need!